TITS' founding duo: Nathalie and Mathilde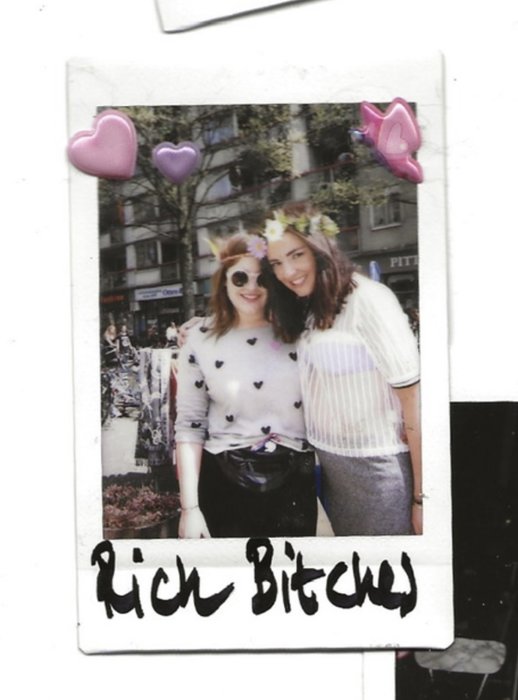 This month, we celebrate our sixth birthday. It marks six years of putting piercings in hot pink T-shirts, learning about sustainability, smashing taboos, partying in the store (not only the taboos got smashed), crying in the store (kut Corona), and, of course, flaunting a lot of titties. 


Unfortunately, the above-mentioned Corona doesn't allow for a big party. So for now, you'll have to celebrate with us digitally. And what better way to celebrate than with an in-depth interview? Or is that just my idea of a party? Regardless, I spoke with TITS' founding duo: Nathalie and Mathilde. Their respective industry knowledge and ability to finish each other's sentences makes you understand why the label has advanced through six tumultuous years. 
Before starting TITS, you worked together at a different store in Amsterdam. So, you've both been involved with fashion, and especially fashion retail, for most of your respective careers. What sparked your interest?
Nathalie: I've always been interested in fashion, which is why I studied at the Artemis styling academy. During that, I worked at a boutique where I met Mathilde. We were also neighbours in de Pijp, which was a really great time to be alive! So we became friends and one day I asked her: "should we start a store together?" From then on, we spent every evening planning together.
Mathilde: Our backgrounds are completely different. I studied law and wanted a "serious" career. But after I graduated, I realised I didn't fit into the life I studied for. That's when Nathalie asked me and I felt with my whole body that: yes, this is what I want to do. I'm not a fashion girl, but I've always been interested in style: helping people find themselves through clothing. Yet, I prefer the operational side of it; Nathalie is the creative and I'm in the background, taking care of the rest. 
What was it like to take the leap from planning into actually starting the store?
Nathalie: Actually everything went very smoothly and quickly. 
Mathilde: Once we finished our plan, we were so excited that we wanted to start directly. I think we worked very hard to open the store. When we found our current space, it was a wreck at first, but it directly felt right. Then, we opened in the middle of the buying season, so it was hard to find regular stock. 
Nathalie: Yeah, we wanted to do things differently from all the minimalist stores around at the time. We painted our store bright pink and worked with funky brands that weren't yet known here, but very popular outside of the Netherlands. Then we created the name TITS. So everybody was like: "oh my god, what is this? We don't want to work with that store." But, we managed. 
Mathilde: We started with sample collections or took whatever stock brands had left, but it was nice! It sold really well, I actually think the first collection was our best year. 
I happen to know there is a very funny story behind our first design, which includes a pencil, a party, and the design in question. Could you share that story?
Nathalie: Our first design was the Tits-shirt. The idea came to us a long time ago, when my friend Michelle and I went to a festival and planned to draw boobs on a white T-shirt. In the end, we just started partying and never stopped… But the idea was born!
So what's your design process like now? Is it still so spontaneous?
Nathalie: Very spontaneous, yes. It's often based on things we'd like to wear but can't find elsewhere, or vintage creations that we find inspiring, or on art styles like Art-deco which inspired our body pendant. And, of course, sustainability is one of the things we think about first. 
Bringing me to my next question: I feel like sustainability has become a buzzword within fashion, meaning countless different things to different designers and labels. So, what does sustainability mean to you, when you're designing for TITS? 
Nathalie: We often start by finding the most sustainable, high quality, fabrics: such as organic cotton or recycled polyester. We try to think of the whole production cycle, so we use recycled paper hangtags and biodegradable plastic packaging. But, to me, sustainability is about constantly learning and improving our means of production. 
Mathilde: We also mind our factories, so right now we work with GOTS certified factories. But I also think it's quite sustainable that, for example, our Tits-shirts have become a favourite staple for many of our customers, one that they will never throw away. We try to make items that people will treasure for a long time. 
So what about our other pillars? How do we incorporate sustainability in the store and the webshop? 
Mathilde: You mean how we don't use disposable water bottles at the office? Haha! 
Haha! So, something I think about, is how we tend to encourage our customers to consume consciously. When I'm working in the store, I obviously want to sell to our customers, but I want to sell them items that fit well, items they'll keep for a long time. 
Mathilde: yeah, I think we often tell people not to buy too much. 
Nathalie: It's what Vienne Westwood said: "If you've got the money to be able to afford it, then it's really good to buy something from me, but don't buy too much." I think it's important to be transparent, inform people and start a conversation around sustainability. 
People often perceive TITS as a very feminist brand, but when you started, it wasn't intentionally feminist. Could you tell me a little bit about how you grew to be more consciously feminist over the years? 
Nathalie: When we started, we only wanted to work with women, because back then the industry was still dominated by men. So when we went to fairs we were always seen as: "those two giggly TITS girls trying to start a store." Along the way, we started selling sex toys and items with dicks, vaginas and tits, which made people say we were feminist, although we didn't say it ourselves. 
Mathilde: It's also about breaking taboos, making things normal. We all have tits, so why should we be embarrassed to show them, just wear your tits on your t-shirt! 
I think it's interesting that you bring up the sex toys and other sexually themed things that we sell because it also says a lot about our society: that for us being sex-positive or sexual in some way is feminist because women are not supposed to be sexual, according to the norms. 
Nathalie: Exactly!
What advice would you give to young women who are trying to start their own company? 
Mathilde: Make the best possible plan. Then, even if you lack money or background, you will make it. Stay very close to yourself. There've been times where we wondered if we should commercialise or aim for a bigger target group, but in the end, we stuck to ourselves and everything worked out well.
Nathalie: Follow your heart and work really hard. 
Mathilde:I think it's a vicious cycle: We both give and receive a lot of energy to and from our work, which I think our audience feels and gives us energy in return. We couldn't have worked this hard if it didn't energise us too. But, sometimes it's also important to take a step back and don't take things too seriously. 
Work hard, but take it easy.
Nathalie: Haha, yes. I also think it's important to respect other people and focus on yourself rather than the competition. 
We've all had one hell of a year. What was it like for you to run TITS amidst the Corona crisis? What were the biggest obstacles? What were the greatest lessons? What were moments that you wanted to cry in the toilets?
Nathalie: Well, not even in the toilets… It was a challenging year, of course. We had to become tough to survive. 
Mathilde: A few months before the crisis, we made big plans to expand our brand and got a financial partner who invested in TITS. Then Corona came and we suddenly lost all income from the store. We had to count all our cents, cut every cost, demand payment extensions... It wasn't our favourite role. We allocated the little money we had into our webshop and online advertising, which saved us. We struggled with ourselves too, but luckily, when one of us is down the other is always up, so we could carry each other. Now we're proud to have survived this stupid fucking kut year. 
Nathalie: Even after six years our partnership is still working really well.
Mathilde: We never fought. 
Nathalie: That's really special: we're still friends and business bosses. 
Mathilde: besties in business! 
In which direction would you like TITS to grow?
Nathalie: We'd like to create more of a platform or community through which we can inspire people and break more taboos. Like, if we can find more taboos, we'll break them all. That's also why we started the blog. We'd also like to expand the brand, a wider range of products and a more inclusive range of our existing products, size-wise. We want to create things that can be worn by everybody, every body.
Picture: This is the first photo of us doing business at Queensday in 2012, before we started TITS. No 'Rich Bitches' yet but still very happy business bitches. ;)