Ulla-la! We teamed up with Silfen!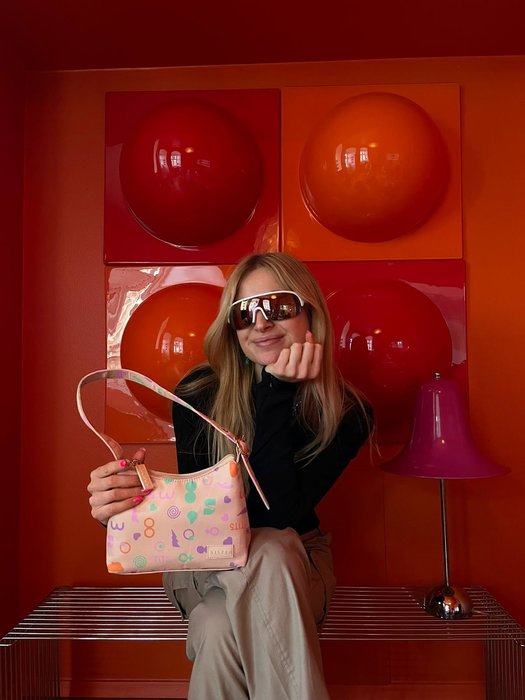 If the abundance of 'what's in my bag' video's on YouTube have taught us anything, it's that we're all obsessed with purses. Nora Ephron dedicated an entire essay to hating her purse. In comparison to pockets, they're often seen as impractical. But sometimes, it can be incredibly empowering to choose style over practicality. Much like dry clean only shirts, or unusably long fingernails, they're a status symbol. They say: "I'm too important to have to clean my shirt, open a can, or carry a lot of tat in my pockets."
This idea of purses dates back to right after the French Revolution, when reticules started to replace the pockets in women's fashion. Reticules were teeny tiny purses, beautifully adorned and often made of netting or silk. They signified prestige and wealth: the smaller and more impractical the purse, the more well-off and powerful the wearer. The symbolism is still alive today, and purses have become an important marker of our identity. Fashion generally is, and purses carry our personal effects. Anything from ID's to credit cards, from tampons to books can safely and privately be stuffed in our purse, making it more personal than any T-shirt or skirt ever could be.
Again, we're obsessed with purses. So, we teamed up with our favourite Danish bag brand, Silfen, to create our very own TITS X Silfen bag. Based on their classic model, the Ulla, it's made from recycled plastic materials and adorned with a cheeky print. That's why we dubbed it the Ulla-la. Silfen's 90's inspired models, innovative materials, and colourful prints have earned it bestseller status in our store. Silfen is run by a brother and sister duo, to whom the bag business is innate. Ahead of Ulla-la's release, we spoke to Celine Silfen about the brand, the bag and the politics behind purses.
With your parents owning the bag brand Adax and your brother and you founding Silfen, it seems like the bag business runs in the family. How did you experience that?
As a child, I thought it was insanely boring when my parents talked about bags over dinner. Then, I slowly started to understand the business and wanted to step into it with my personal twist. Now I love the way bags can connect our family, I love how some stores put Adax, Silfen and Nunoo together to make a "Silfen family area."
So what inspired you to join the bag business?
My parents are amazing role models in loving their job. I remember every time we came home from vacation, they were excited to get to work again. Not that they weren't excited to be on vacation, they just loved their job too. I'm also very inspired by how they both run a business and are amazing parents to five children. My brother, Daniel, is also a huge inspiration. He doesn't see limits and has a very creative mindset, which is also the expression our brand and bags are built on.
In my mind, Silfen is known for its iconic shapes. Styles like the Ulla stay consistent over the seasons, whilst you innovate on materials, textures, prints and more. What drew your attention to materials rather than shape?
Although you can play with shapes, you can tell a story with print. For us, the print is a playground, a way to visualise the theme of each collection. This can be everything from Japanese Gardens, to Grease, to Farmhouses. We find it very important to tell these stories and show where we got the inspiration from. We also love to make the bags a part of your outfit, something that makes a statement about the person wearing it – and isn't just for practical use.
Sustainability is key to Silfen, but you also mention it's a fuzzy word - which I definitely agree with. What does sustainability mean for Silfen, concretely? I read you use 'RPET' as a material for some of your bags.
Sustainability is a process. Nobody is sustainable, you can always do more. At Silfen we are proud to be where we are, but we know we can be even better! Right now, we're working on a collection of which more than half of the materials are recycled. Our dream is to have a circular production with a 100% recycled collection. As for 'RPET', which is also the material used for the TITS X Silfen collaboration, it's made from recycled plastic bottles. First, the bottles are collected out of the ocean, cleaned and separated into larger, then smaller, pieces. Then, the plastic is melted and transformed into yarn, which becomes the fabric for your new Silfen bag!
I believe we approached you for the TITS collaboration. What were your initial thoughts and why did you want to collaborate with us as well?
We love the way TITS is never afraid of standing out, the way you aim to break taboos in a charming and fun way. It is kind of provocative but in a cute way. Then, TITS' colourfulness works in a playful universe - as does Silfen. We thought this is a perfect match to make something fun and different.
And how did you experience the collaboration? Could you tell us a bit about the design process?
We've been working on this bag for more than a year and each icon has a special meaning. We both wanted the print to be a bit naughty and were inspired by the colour combination seen below. Many bags are very classy and conservative – this one isn't! We wanted the bag to tell a story, and maybe turn some heads as well.
TITS values breaking taboos around gender and femininity (amongst other things), which I think bags and purses play a big part in. Since the 1800s, men have had big pockets to carry their stuff whereas women have purses. Because of this, some people claim that purses are empowering whereas others claim they are repressive. What do you think?
At Silfen, we believe purses to be empowering – they're a way for people to express themselves and to be self-reliant. We make bags for everyone – for those who like to carry a lot, those who love glitter, those who believe bags are only practical and for those who see them as an accessory. I think people can be quite possessive of their bags because they are a part of them – they contain all the things that define a person, both in the literal sense with driver's license etc., but also the small essentials that mean the world to a person; a picture of a loved one, a small token of a friendship or a small vial of that one special perfume.
Even today, purses remain a very feminine thing - often seen as exclusive to women. How do you view that as a brand?
Bags are important to all people – whether you identify as feminine or not, whether you're a man or a woman or someone in-between. We try to embrace this principle, although it is difficult to establish a new norm in a world that has decided that purses are not masculine. We try to empower our customers and ask them to be brave – we hope to introduce men to the world of bags one bag at a time.