Teaming up with Sella Molenaar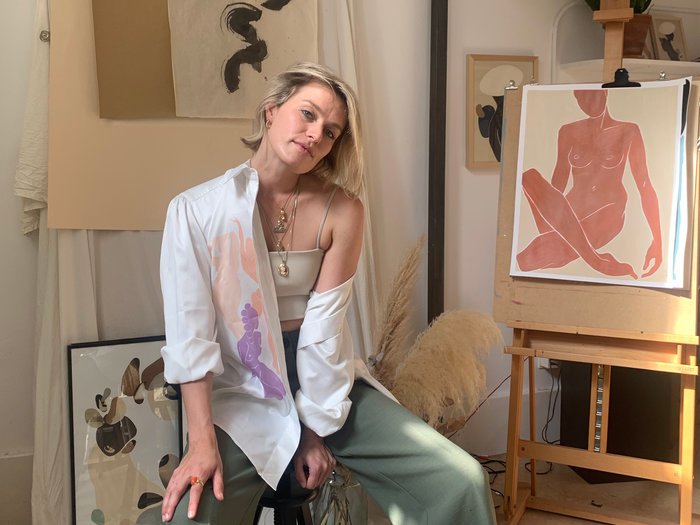 A classic satin blouse is like a diamond: it's forever, an instant way to class up your outfit… but also pretty cliche. With that contradiction in mind, we went on a mission to create the perfect silky blouse and scarf duo, with a steamy TITS-like twist. Doing so, we teamed up with illustrator Sella Molenaar, whose fluid illustrations celebrate femininity in all its shades and shapes. We believe we're a match made in heaven. Or better yet: She's the silky blouse to our silky scarf (a blouse and scarf adorned by Sella's illustrations, that is). 

Almost all of Sella's subjects are enticingly feminine. She started her career creating life drawings at markets, simply attempting to find the most enjoyable side-gig. But now, her powerful illustrations praise the value of feminine qualities, such as vulnerability and softness, in a masculine world where femininity is often seen as inferior. Consequently, she's worked for some pretty prestigious clients: Dior, Dolce & Gabbana and, of course, us! Ahead of the collection's release, we caught up with Sella in her warm and sun-drenched studio, discussing art, sex, fashion, femininity and the question if her subjects are nude, or naked. 

If you'd paint an (abstract) self-portrait, which colours would you use?
A lot of natural colours like terra, beige and pink tones… almost the colours I used in the TITS blouse. I'm not really into primary colours and prefer softer tones, which is also what I'm exploring in my work: softness and femininity. 
I read you started your artistic career, drawing at markets and festivals. Could you tell me a bit more about that? 
Yeah, haha! When I moved to Amsterdam almost ten years ago, I didn't have a job and my rent was ten times higher than I was used to. I tried to get a job as a bartender but never tapped a beer in my life. So I thought: "okay what can I do?" Since I'd always drawn and also went to the fashion academy in Antwerp, I figured: "why not draw people for money?". I started at a local market, making life drawings for a voluntary fee. By the end of the day, I actually made a lot of money!  
Now you've grown into quite an established illustrator with some pretty prestigious clients (Dior, Moët Hennessy, and now… us!) I can imagine you don't always have that intimate contact with your subject when you're drawing.
That's true. But, on the other hand, when I'm life drawing I only see people for 10 minutes. During these long-term collaborations, the connection with my client is deeper and more sincere. Take my work with TITS, for example, the process is elaborate, there'll be a launch event and a final product that will be around for much longer than a quick sketch someone takes home. Although I prefer these long-term collaborations, I occasionally do life illustrations because I love the excitement of the event. I love the diversity of my work. 
Do you still feel the same way about illustrating as you did as a 'rookie' working on festivals? 
No, I don't. When I started, it was all about having fun. I didn't have a plan, goal nor mission - except making a living whilst having as much fun as possible. Today, illustration is basically my life, and I want to make a positive impact with my work. Although I still like to be in the moment when working, I also want to add more depth and inspire others with it. 
Lots of your subjects are unclothed. Are they nude, or naked?
I think they're naked. In my opinion, being naked is our most natural state, and when you're nude we attach a certain sexual connotation to it. The women I draw often don't wear clothes, but they're not nude, it's not about their nudity but rather their vulnerability, femininity, softness and introspection. It's an interesting process because I hail from the fashion world, so I used to exclusively draw clothes. I feel like I've outgrown fashion a bit. I don't care which top someone is wearing, I'm more interested in the woman underneath the clothes and what she radiates. 
Like you mentioned, your subjects are very feminine, in their curves, their lines, their colours… But what does femininity mean to you?
Personally, it means exploring my soft and vulnerable sides. We live in a masculine world and, for a long time, I only saw my masculine qualities as my good qualities and my feminine side as a weakness. Exploring my femininity through my illustrations is a way to explore and re-value those sides of myself, and hoping others will do the same. I want to give a positive voice to feminine values. To me, it means embracing all of your sides: vulnerable and strong, hard and soft. 
On your website, you also address your mission of creating sex-positive work, why is that so important to you?
I like it when my work is aesthetic and pleasing for the eye, but also scratches the surfaces of something that people might consider uncomfortable: maybe it's the femininity or the fact that my subjects are naked and powerful at the same time. For me, sexuality is more than sex itself. There's this saying from Picasso that sex and art are the same. People assume it's because he drew a lot of nude women, but for me, they're the same thing but for a different reason. It's because the energy behind them is the same: energy that allows you to create, marvel, and enjoy life. Partially due to that, I feel like sex should no longer be taboo or seen as something private. It's more than just "the deed." 
Yeah, I feel like our (heteronormative) society still sees "sex" only as penetration.
Yes, even though it can also be a conversation with a stranger on the street or the realisation that the world is so beautiful. To me, sex is about passion. It's what Esther Perell describes as eroticism: this feeling of aliveness.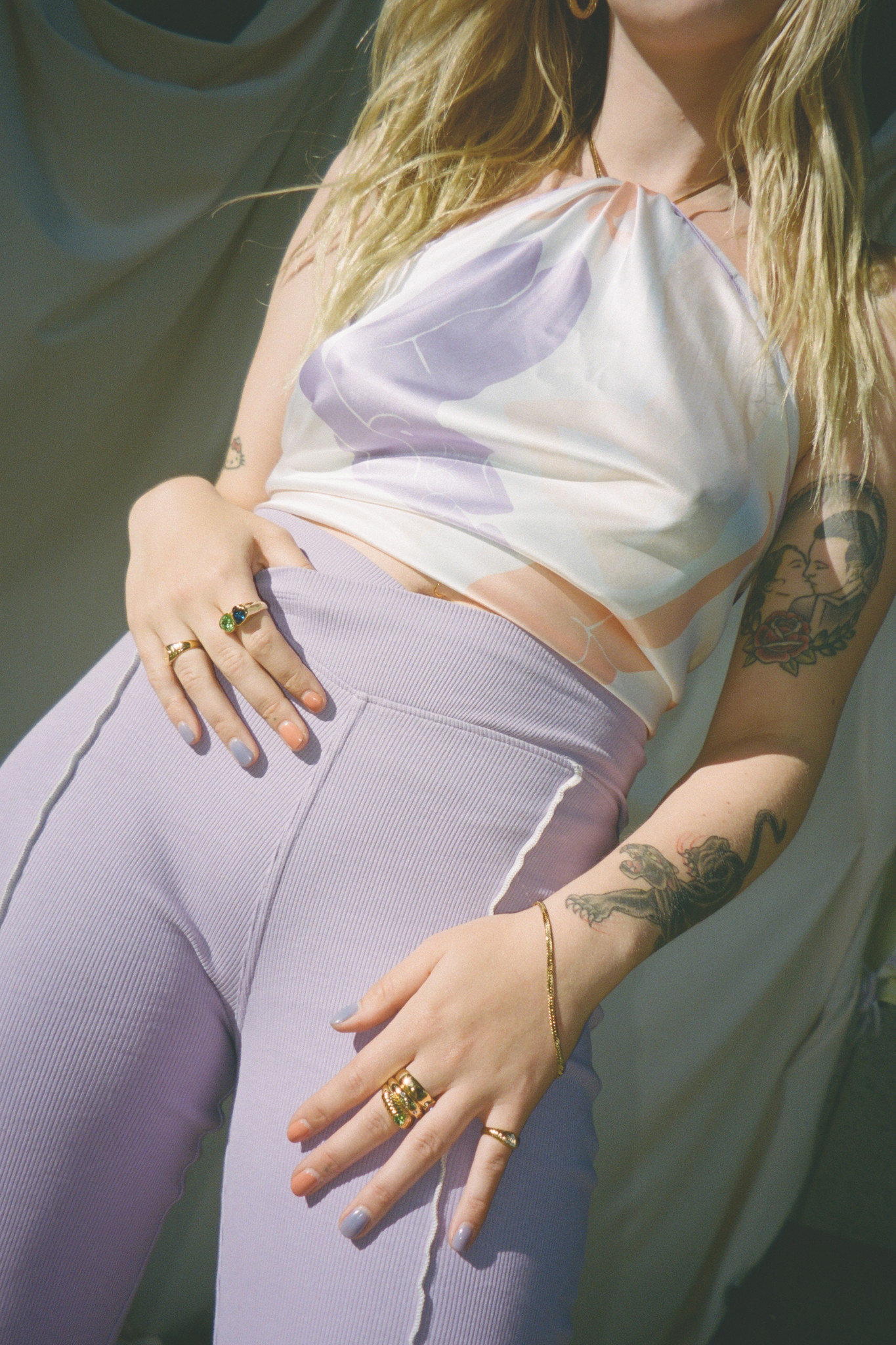 How did you experience your collaboration with TITS? 
I really like TITS because you're a small women-driven brand, and everything you do is connected to the world around you. You want to be diverse and sustainable, which are values I share. Additionally, I think it's nice that you can be very edgy and colourful and I'm more into softer tones. The blouse became a nice combination of us two. It's funky and sexy, but also hyper-feminine. I like that. 
I feel like we're also maturing a bit, style-wise. 
True, but you remain very colourful. If it was up to me, we'd only use terra and sand tones. Nathalie said: "We have to include purple!" I was like: "Purple?!" It was a bit of a puzzle which stretched my boundaries as well. I'm very happy about it. 
What was the design process behind the illustrations? Did you hand-paint them?
Aside from the purple, TITS gave me a lot of creative freedom. I drew lots of silhouettes and we fine-tuned it along the process. I painted the originals by hand and we'll develop some prints to be for sale in the store as well. When you hand-paint them, the subjects will have all shades of purple or terra. Because the printing process only allows for one colour, the designs on the garments became more monochrome. Regardless, I'm old-school. I love to get my hands dirty when I paint and then digitalise them.