This week we had a Valentine's date with Sioejeng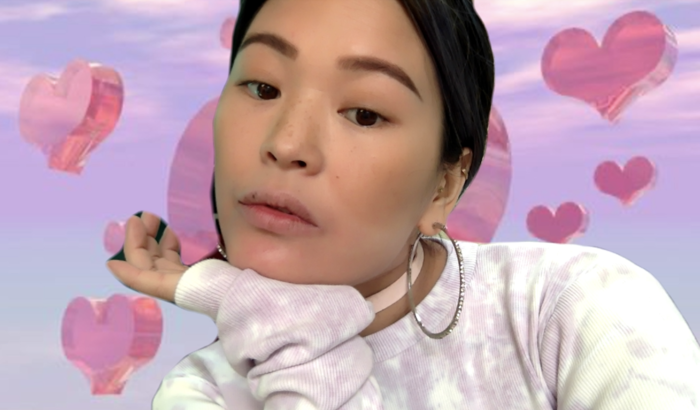 Growing up as the only Chinese kid in an otherwise white environment, Sioejeng felt like she didn't have a role model. So, she became one herself. Her colourful illustrations optimistically propose a more inclusive world, whilst she sharply addresses, often personal, issues of inequality through her vocal form activism. Coming from a culture where "it's not normal to talk about your emotions" she gained an impressive amount of self-knowledge and self-love from therapy - a vulnerable experience, but one she happily shares to help others, like a true role model. Ahead of Valentine's day, we had a zoom chat with Sioejeng (cheesy background included) to discuss all a girl might want for Valentine's: Pet names, pedicures and challenging a racist society. 

If you would give yourself a pet name, what would that be? 
Rawit, which is a small chilli pepper and my mom always says I'm like a pepper; small but fiery. 
Which qualities of yourself are you totally in love with? 
I'm very enthusiastic; very happy about everything that comes my way. I'm also very optimistic, but foremost: I make people feel comfortable, feel like they can open up to me. 
In both your work as an illustrator and activist, which often overlaps, you're very vocal on issues of identity and diversity. What would you say is the red thread throughout your work? 
Inclusion: Many people ask me about the difference between diversity and inclusion. Diversity means talking about individuals from different backgrounds; so racial, gender, religion etc. But inclusion to me means that you, as an organisation or individual, try to include everybody. So in my work, I always make sure that everyone is included that nobody is left out. 
I think it takes a lot of courage and self-knowledge to be as vocal as you are on topics you care about. Could you tell us a bit about your journey with activism? 
As you said, I've always been very vocal in snapping back when somebody is trying to make me smaller. It started when I was very very young and still living in de Bijlmer. Although it's a colourful neighbourhood, I was the only Chinese kid at school and other kids picked on me for that. My best friend, who is Surinamese, told me to fight back. At first, I was like "oh, I'm a lover, not a fighter" but I realised I had to say something. We later moved to Alphen aan den Rijn and things became harder. I got very bad eczema and together with still being the only Chinese kid, it was a good recipe to get bullied. Additionally, my parents got their own business, an Asian supermarket, and I felt like I couldn't address racist comments anymore, because it might affect their business. I was living in-between my loud, second-generation Chinese father, who has an attitude like; "I'm from here and I can claim my space." And my Chinese mom who came here from Indonesia. She's like "just keep it on the low, racism doesn't exist." I think a lot of Chinese kids are in this situation where they feel like they can't really step up their game because they're the only person of colour. 
Years later, I started to become more critical and informed. That's when I actually realised: Okay, I feel like there are a lot of issues and the Chinese community isn't really stepping up their game. So, instead of looking for a role model maybe I should be that role model. That's why I decided to first speak out on Instagram and a lot of people agreed with me, from which it started to go viral. That's how I got motivated to speak my truth, eventually. 
As you just said, you're an optimistic person, which also becomes evident in your brightly coloured work. What role does optimism play in your life? 
The funny thing is that whenever I do a personality test, it says I'm very pessimistic. Let's say, when I'm in a good mood, I'm super optimistic and even during most bad days I can see the light at the end of the tunnel. But I also have bad days, like when I'm getting my period, where I feel like the whole world is against me. Let's say I'm 80% optimistic and 20% not.
This brings me to your post on Blue Monday, where you addressed the stigma around mental illness and your own experience. What's the most important thing you learned from your journey?  
When I went to therapy, I learned to talk about my own emotions. In Chinese culture, it's not normal to talk about your emotions. People don't ask you: "How are you?" They ask "How's it going with school?" Or: "How's it going at work?" It revolves around your status and if you're getting enough money. Also, to find my own strength instead of focussing on others the whole time. I used to put a lot of energy in friends and would get frustrated when I didn't get the same energy or love back. Eventually, I thought: Okay, if I put all this energy in myself, instead of constantly expecting others to read my emotions or giving me something I didn't ask for, I'd be so much happier. 
Through your work, you accentuate the importance of role models. Like you said; when you didn't have a role model, you became one yourself. What message would you give your teenage self?
I used to try to please everyone and save everyone, which really drained me. So, I'd say: It's not your responsibility to save everybody. Someone mentioned that saving people isn't exclusively an action of kindness or empathy, but also a bit superior and narcissistic to feel like you could save everyone - which I never really thought of like that. So I'd tell my teenage self to focus on herself, rather than thinking about others the whole time.  
Which is a good bridge to my final question: Imagine, you'd spend valentine's day only doing things for yourself. What would your day look like? 
Oh, I love days where I go to the hairdresser, do a manicure and pedicure… maybe read a book in the sun. Yeah, a day where instead of giving to others, I give myself some quality time to reload my energy so that after I can be able to help others. 

Image and interview: Sioejeng Tsao