Pride month: Sisi Bisschop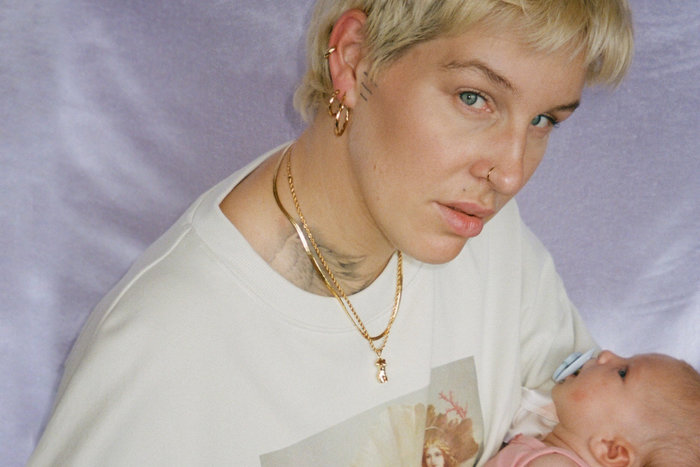 It's August, a.k.a. pride month in The Netherlands. But even though we live in a particularly liberal time and place, our identity, attraction and concept of family are still expected to fit into boxes. Like they are household trinkets that can neatly be organised in an Ikea Kallax unit, rather than complex and fluid parts of life. One person challenging this box-thinking is Sisi Bisschop. As a child, Sisi never quite felt like the girl society expected her to be, thus she grew up to become a kick-ass genderfluid personality, hairstylist and single parent. We had a chat with her and her baby Ziggy (who, at 6 weeks old could only coo) about daring to be genderfluid in a binary world, definitely not hosting a gender reveal party and how to break through our boxed-in idea of family. 


First off, what are your pronouns? 
That's already a tough one! Even though I don't identify as a man nor woman, I'm okay with people calling me she or her. I notice people still struggle with gender-neutral pronouns. Particularly in Dutch, it's not yet adopted into the dictionary, they feel very impersonal. 
If you had a Tinder, Grinder or OkCupid profile, what would it say?
I always say that I'm genderfluid, that I don't identify as man nor woman but shift between. Then I'd say that, although I look very outgoing, I'm not very outgoing. I like to keep to myself and follow my own path.
Because of course, I looked at your Instagram profile, where you mention that you're genderfluid. Could you explain what gender fluidity means, for those who might not know?
That you fluctuate between genders. So one day you feel more feminine, the other more masculine, sometimes you're more neutral. Basically, I don't feel like a woman nor a man. 
And what does your gender identity mean to you?
I think that identity says more about who you are, that's something totally different to me than my sex or gender. 
How do you think society views gender - as a whole? 
I think we've taken many steps already. When I was young, I only knew that you could be either a man or a woman. In Amsterdam and other big cities, this view is shifting. So I think we're heading in the right direction, but more steps need to be taken.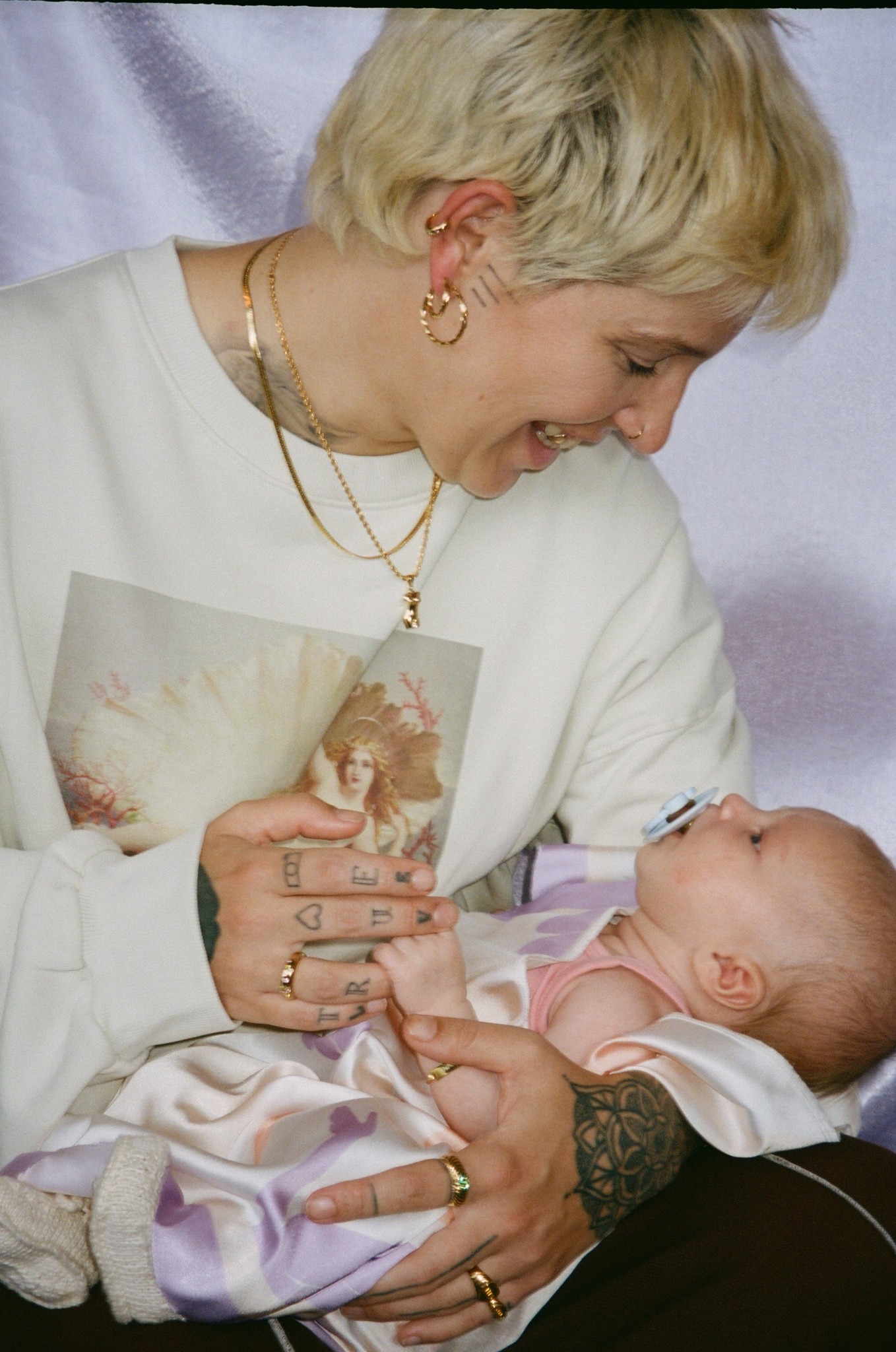 So what was that like for you growing up? How did you find out you are genderfluid?
When I was a kid I always said I was a boy, I figured I didn't feel like a girl so I must be a boy. And that was that. I never thought about the consequences of what that meant, or that this might be weird or incorrect. But once puberty started, my body changed and I realised that apparently, I'm a girl. That resulted in an identity crisis because, although I didn't feel like a woman, I still tried to act like one. After all, that's what society expected of me. I got heavily depressed and started therapy, during which my therapist told me that you could be more than either a man or woman. After I learned that, I've never been depressed again: just knowing that what I feel is valid, and other people feel the same way too and you're allowed to not know how you feel gender-wise. Because we live in a country that still likes to think in boxes.
Yeah, very dutch: "doe maar normaal, dan ben je al gek genoeg." 
Haha yeah! Once I learned that's not the case, everything got better. 
So now you're a parent to Ziggy, how do you raise her, gender-wise?  
I consciously didn't find out the sex beforehand and definitely didn't host a gender reveal party, haha! I also didn't mention the sex on her birth card, because it's so irrelevant to me. I'm going to leave it to her. She's a girl now, that's the sex she was assigned at birth and she'll have to work with that for now. I also can't raise her fully gender-neutral. Or I could, but that's up to her. If she'll ask for it like I did as a child, I will.  
As a genderfluid parent, do you also identify specifically with motherhood and fatherhood?
I feel like both, so I am both. She'll also find out that her mother has a feminine and masculine side.
Because you're raising her on your own, right? 
Yes, so I'll also have to fulfil both roles but I think it'll be easier because I am more fluid. And in the end, what is a father's role and a mother's role? Although during pregnancy I did feel more feminine, softer, more sensitive, so I think I expressed more feminine as well. 
How do you think our society defines the concept of family? I feel like it's still very binary, heterosexual, nuclear and so on.
Yeah, very "man, woman and child," it's intense! Everyone assumes that I have a boyfriend or husband because I have a child now. I constantly have to explain that I'm single. Then people still assume I'm attracted to men, simply because I have a child. So I have to explain that again… Yeah, there's constant messaging from society, from the government even, that families only exist out of a man, a woman and a child, who also have specific 'father' and 'mother' roles.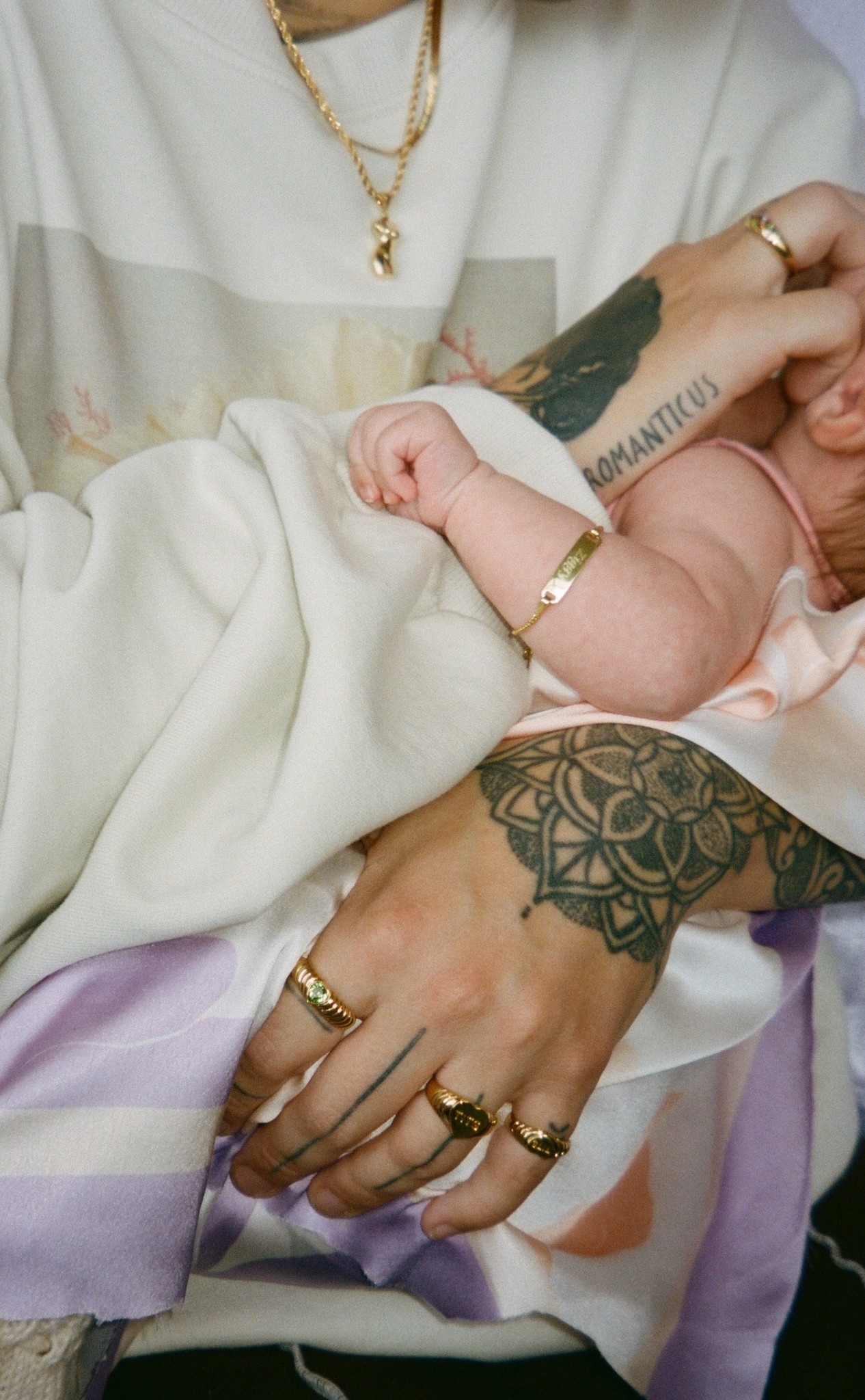 Yes, whereas gender norms are starting to relax in other aspects of life, they're still so prominent within our perception of family. 
Once you start a family, you suddenly are seen as heterosexual… it's very weird! It's also interesting that, if you start your family in a normative way - mother, father, child - but then get a divorce and continue as a single mom, it's suddenly seen as okay. Whereas if you just start your family as a single mom, it's seen as weird. What if you already know you want to do it on your own?  
Yeah, I can imagine it's also very nice to raise a child by yourself. 
I love it! I don't have to discuss with anyone. I also think that you need to have a very strong relationship if you decide to have children together. 
So what advice would you give to people wanting to start a family, who might not fit this traditional, nuclear family box? 
That you have to try to think outside of that box, trust yourself that you can do it. People always think single parenthood is very hard, seeing you have to do everything yourself. But parenting together in an unhappy relationship seems much heavier to me. So don't let yourself be stopped by this societal idea of family, if you want to be a mother, go for it! Exactly because I don't fit into that ideal, I want to show my journey. I hope I can inspire other wannabe parents to do it in their own way as well. I don't find it as tough as people expect! 
This month, we celebrate pride in the Netherlands. What are you most proud of? 
I'm proud that I dare to be who I am and that I dare to be open about it. It's been a long road for me. I hope the next generation will dare to be themselves much sooner than I did. But I can see it going the right way. 

Models: Sisi and Ziggy Bisschop