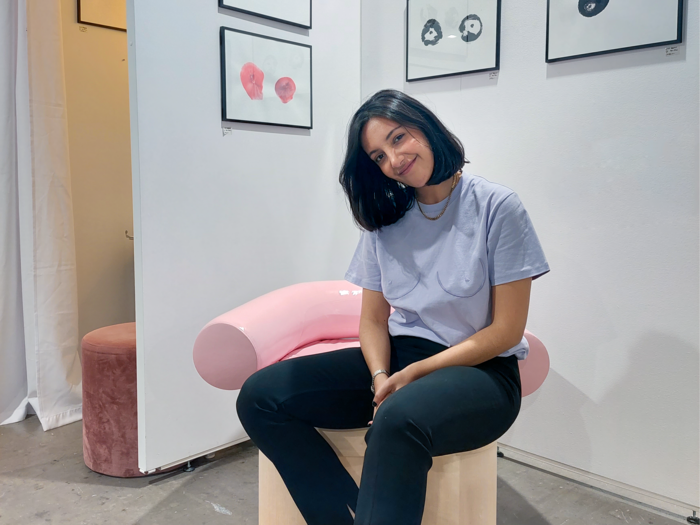 Just like us, Romina Moradi is all about boobs. Struggling with pent-up emotions, she started painting with her own. Under the name of Just Breast, her artistic boobs made their way to countless living rooms, galleries and even on a Jaguar (which she sadly wasn't allowed to drive due to her lack of a drivers' license). Together with her "second boob" Ambar Surastri, Romina transformed her personal artworks into a therapeutic workshop. In a twisted case of fate, those workshops enabled Ambar to catch her own case of breast cancer early and make a full recovery. 

Since October doesn't just mark the start of sweater weather, but also breast cancer awareness month, we caught up with Romina and teamed up with Just Breast for a "therapeutic" giveaway. Tag your breastie on our Instagram post, to win them a seat to the Just Breast workshop, a TITS shirt or Piercing shirt of their choice and a cheeky two-side pendant with a chain of their choice. And for those of you wondering what on earth a "Just Breast workshop" is exactly, simply keep on reading…
You are the brain (and boobs) behind Just Breast, through which you create artwork and organise workshops. But I read you started from a very personal experience. What was that experience? 
My ex-partner went through a tragic life happening so, as you do, I supported him. But being young I didn't know how to support myself too. I lost 10 kilos, lost my period… I bought some paint and canvas because I felt like I had to express my emotions. I can't paint, sketch or even combine colours, so that's how I ended up making boob prints. My ex, as he was not in a good place during that time, said: "Who's going to want to buy your boob prints?!" So I just continued expressing my emotions in an artistic way for two years, like art healing. Then, I joined a platform called Wall of Art and it kicked off. I started donating to Pink Ribbon, to which I've donated almost €10000 now. I wanted to return the support I got from my creative outlet, to create a movement and break the taboo around boobs.
I saw your art even ended up on a jaguar. How did that happen?
I won a competition, it was actually tied to the affordable art fair. 

Jaguar seems like an ironic choice for an "affordable" art fair. 
Haha, yeah they were a sponsor, but it should have been a Toyota! It's also ironic because, although I was able to put the boobs on the car, I didn't have a driver's license. That meant they couldn't even give the car to me. Otherwise, I would have had my own boobs Jaguar now.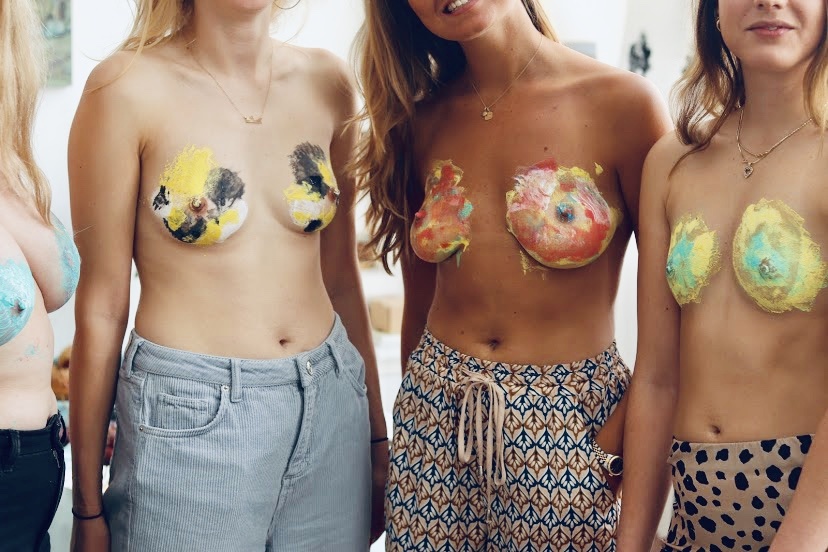 Speaking of irony, when I came to Amsterdam, I met Ambar, who is like my second boob. There was this energy around her that simply made us click. So, we started the Just Breast Art Healing Workshops at De School and less than two months after we started, during our preparation she found a lump on her breast. At the doctor's, she found out it was a five-centimetre tumour, in stage one of breast cancer. She recovered, without too many difficulties and we are happy she found it so early. I feel like our connection was meant to be.
When you started the workshops, they were mainly emotionally therapeutic. How does the therapy play into the process of painting?
I took some art healing and therapy courses. The painting process is based on the Mandala which, like boobs, are round. We have three papers, representing the past, present and future. We encourage people to go through each stage and think of their mental state at that time, then choose colours that represent each stage and simply apply paint on their boobs. Afterwards, we go through the meaning of each colour. For some people, it's a revelation! We also talk openly about body insecurity, mental health and life-changing stories during the one-hour sessions that are always packed with some emotions, and sometimes tears. It's very beautiful.

And, after Ambar was diagnosed with breast cancer, did the nature of the workshops change? 
Yes, first off, we slowed down a bit ourselves. I was unsure how Ambar would feel during our first workshop post-surgery. It was obviously quite emotional, but she's eager to spread the word even more. Explaining and encouraging regular self-checks has become an important part of the workshop and to make sure you are more in tune with your body. We also use the boobs' essential oil for this.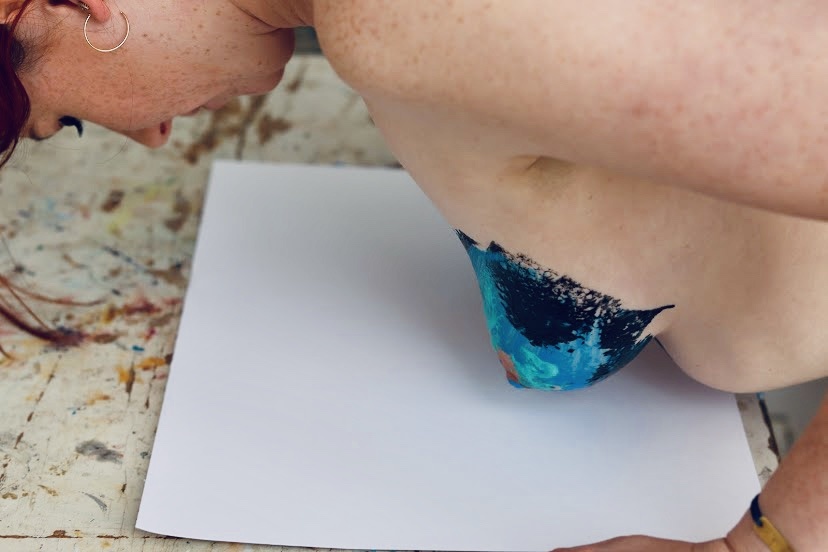 Breast cancer is still a taboo topic, whereas I think talking about it is so important, both in catching it early and in making the grief or fight less isolating for people. How do you think we can make a topic like breast cancer more accessible? 
First off, hospitals need to widen their criteria for checks. Right now, they only ask women to come in after the age of 40. Even though men can also get it, Ambar found it when she was about 36. If she would've waited, or been unable to feel the tumour herself, she'd probably not be alive anymore. Breast cancer awareness during October is great, but we need to keep up regular awareness, keep encouraging regular self-checks and hospital checks, we need to talk about it.
I can imagine you've seen a lot of boobs. There are so many norms and stereotypes on how your boobs should look. What advice would you give to people to embrace their breasts? 
When I see someone judging themselves at the workshop, I tap them on their hand. There's usually a minimum of five to six people, and all their boobs are different. Even our nipples are as unique to us as our fingerprints! So, just embrace them. I think people with a lot of media influence could also communicate this more. We're heading in the right direction though, I like what you're doing, it's empowering, strong and addresses the shaming.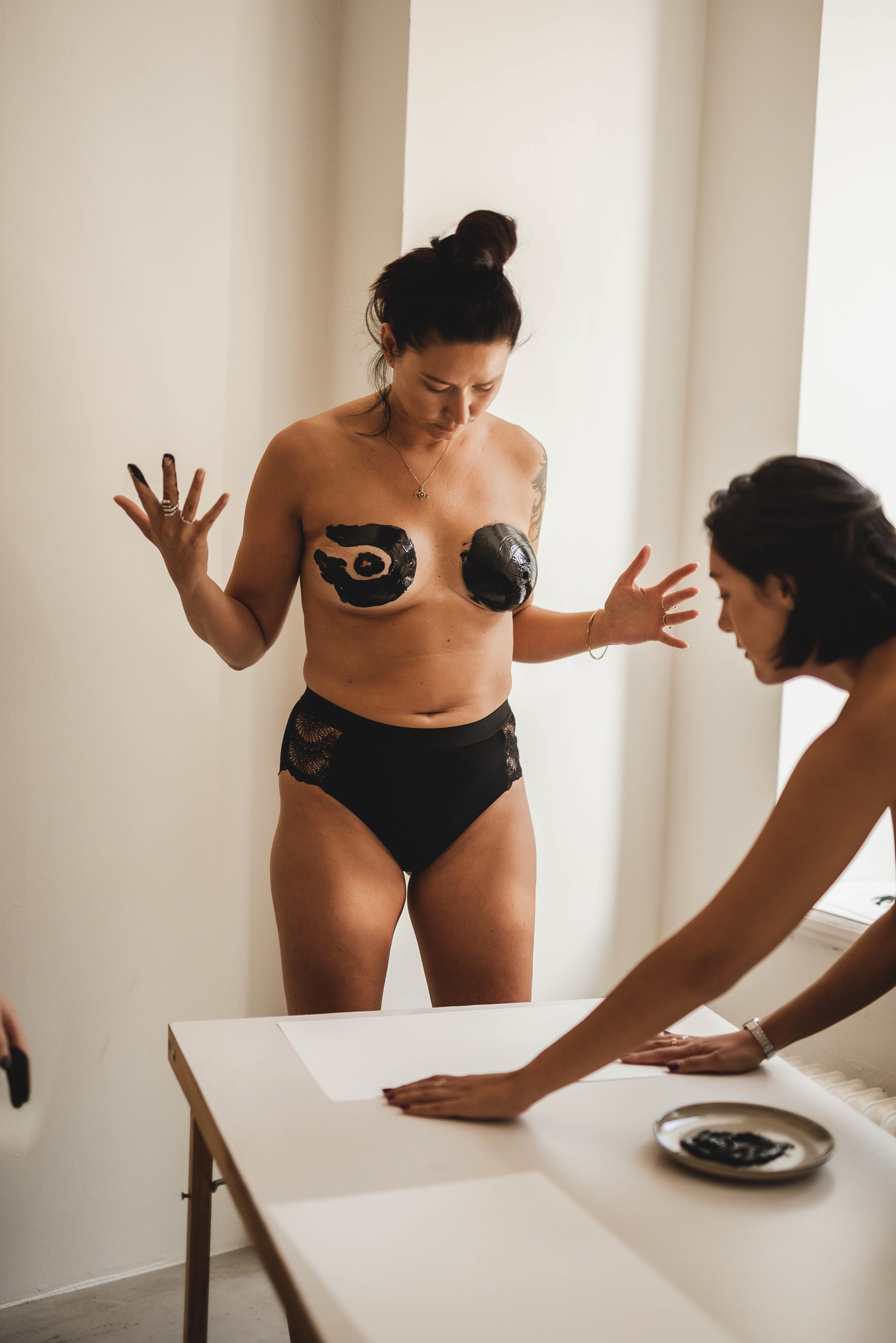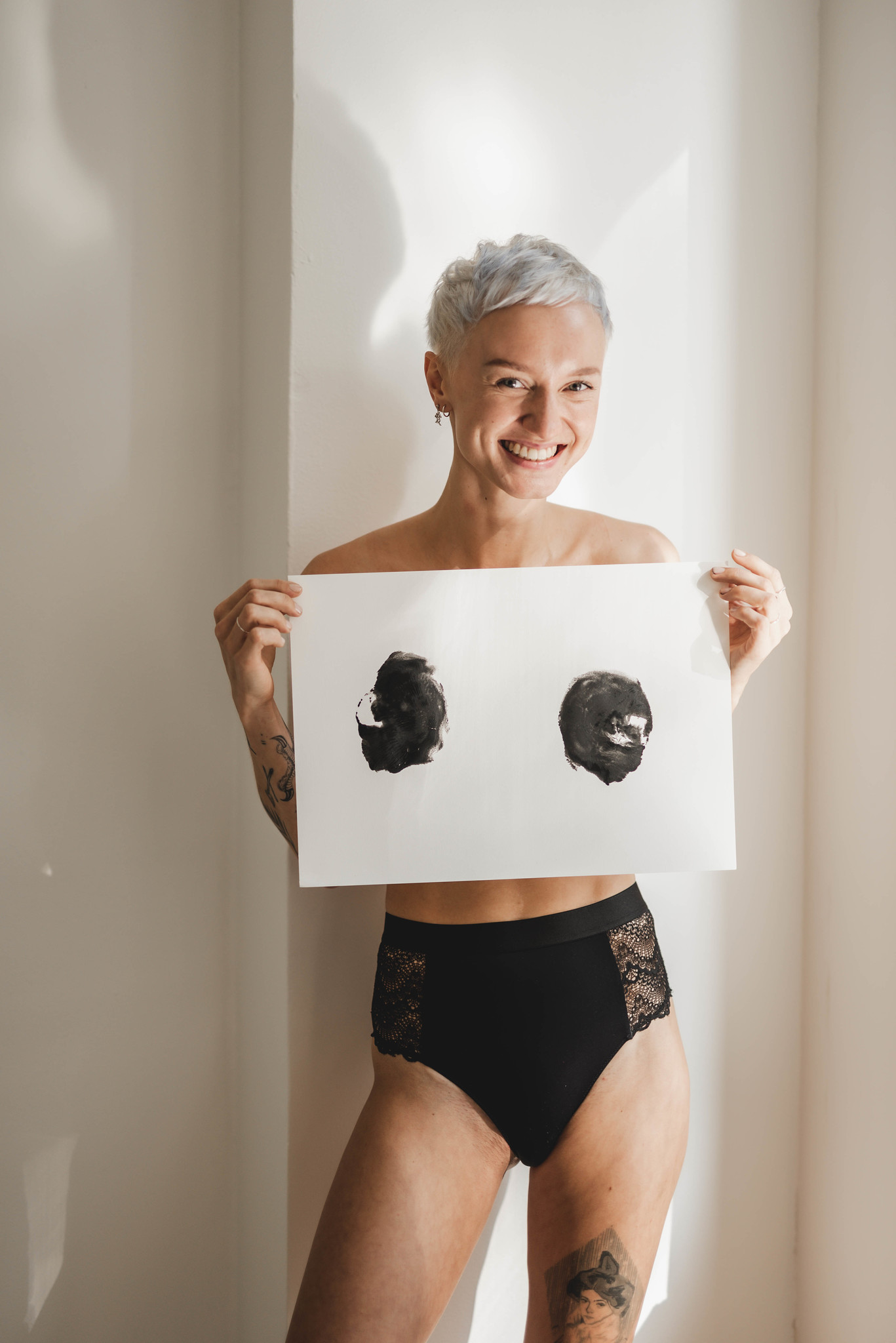 Do you want to sign up for a Just Breast workshop or buy some cool boob art? Click here

Photography by Disa Hein and Just Breast pictures.