TITS X The TittyMag: Bete van Meeuwen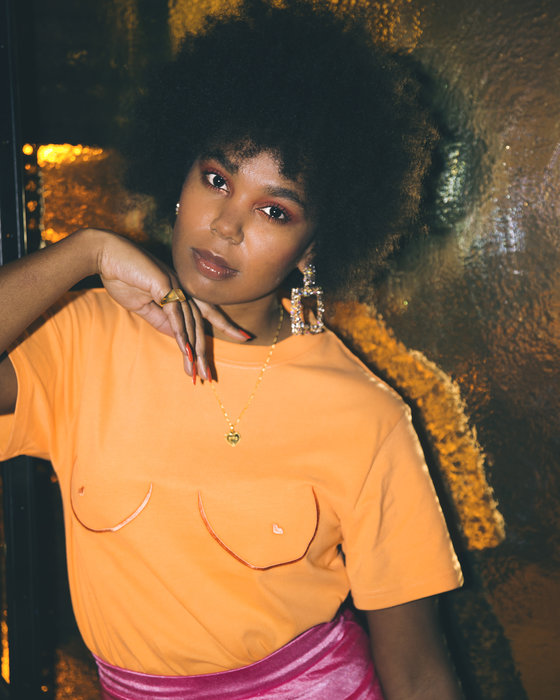 Jezelf uiten door middel van kleding, maar ook bewuster bezig zijn met uiterlijk. Dit zijn twee dingen waar fotografe Bete, samen met vele anderen, mee bezig is. Samen met TITS Store Amsterdam hebben wij zes vrxuwen geïnterviewd in het Instagram museum, Youseum. Deze vrxuwen inspireerden ons in 2020 en dat zullen ze blijven doen. Fotograaf Sascha Luna heeft deze inspirators vastgelegd voor de nieuwe campagne van TITS. In dit interview kom je meer te weten over Bete. Wat is voor haar echt belangrijk in het leven?

Is bezit echt zo belangrijk als we denken? Of juist totaal niet? We spreken hierover met Bete van Meeuwen (@betephotography). Hoe belangrijk is materialisme voor haar? En hoe speelt dat een rol in haar werk?
Je bent fotograaf, feminist en je houdt je veel bezig activisme. Hierdoor ben je bewuster geworden van je koopgedrag en wat voor invloed dat heeft op de maatschappij. Hoe belangrijk is bezit voor jou? En waarom?
Dat vind ik dubbel. Niet alles wat je kunt bezitten vind ik belangrijk. Ik hecht wel waarde aan kleding, omdat ik mezelf daarmee goed kan uiten. Door middel van kleding kan je jezelf onderscheiden van anderen en dat past goed bij mij. Ik vind het niet erg om op te vallen of juist iets anders te dragen dan de 'basics'. Aan de andere kant heb ik geleerd dat het helemaal niet belangrijk is om op een feestje elke keer iets nieuws aan te hebben. Vroeger deed ik dit wel, en voelde ik ook een druk op mezelf om veel bezig te zijn met hoe ik eruit zag. Ik denk dat er hoge eisen worden gesteld aan het uiterlijk van vrouwen. Ik denk dat dit door de maatschappij wordt bepaald. Nu probeer ik er bewuster mee bezig te zijn. 
Tijdens Black Friday heb ik bijvoorbeeld niks gekocht wat ik niet nodig had. Ik ben me nu meer bewust van wat onnodig kopen met de maatschappij doet.
Je bent natuurlijk freelancer en doet veel commerciële shoots. Hoe zie jij materialisme in je werk?
Als ik naar mijn huis kijk, is dat mijn woon- en werkplek. Als ik een stagiaire heb, werk ik vaak op kantoor, maar als ik alleen werk is dat niet nodig. Daarom betaal ik best wel veel voor mijn woning en stel ik daar misschien ook hogere eisen aan dan mensen die een vaste (kantoor)baan hebben. Hoe vervelend het ook is, met geld kan je veranderingen maken. Er zijn ook wel andere manieren waar je kleinschaliger impact kunt maken zoals bijvoorbeeld de Instagram Stories, maar ook daar kan je meer bereik kopen. Geld speelt altijd een rol.
Wat vind jij zelf echt belangrijk in het leven?
Het laatste jaar heb ik mezelf veel meer bezig gehouden met activisme. Zo had ik kortgeleden een expositie over vrouwelijkheid bij mannen. Ik heb gemerkt dat in de queer scene, waar ik zelf in zit, vrouwelijke mannen als minder worden gezien. Toen bedacht ik me dat dit ook een probleem is dat zich in de heterowereld afspeelt. Mannen moeten aan bepaalde eisen voldoen die schadelijk kunnen zijn voor hen en de mensen in hun omgeving. Mannen mogen bijvoorbeeld niet huilen of hun liefde uiten, dan worden ze gezien als vrouwelijk. Het probleem is dat dit normale, menselijke emoties zijn. Het is niet dat die emoties horen bij een bepaald gender. Ik vind het vooral belangrijk om mezelf daarover uit te spreken, want ik denk dat praten met elkaar echt een verandering kan maken.
Wat zou je graag willen veranderen in de wereld en op welke manier speelt feminisme hierin een rol?
Ik zou graag taboes willen doorbreken. Ik vind het erg belangrijk om met feminisme bezig te zijn. Veel mensen weten bijvoorbeeld niet dat mannen veel meer betaald krijgen dan vrouwen voor hetzelfde werk en met hetzelfde diploma. Natuurlijk is dit maar een klein onderdeel van feminisme. Wat ik zou willen veranderen is dat mensen meer over taboes gaan praten. Dat ze niet bang zijn om zich uit te spreken en zich ook gaan beseffen hoe belangrijk dit is. Iedereen heeft een stem en wanneer vijf mensen zich over een onderwerp uitspreken, zal verandering sneller plaatsvinden dan wanneer één iemand dat doet.
TITS X The TittyMag
Photography: Sascha Luna
MUA: Vivi Christin
Model: Bete Boe
Location: YOUSEUM