TITS X The TittyMag: Gerdien van Halteren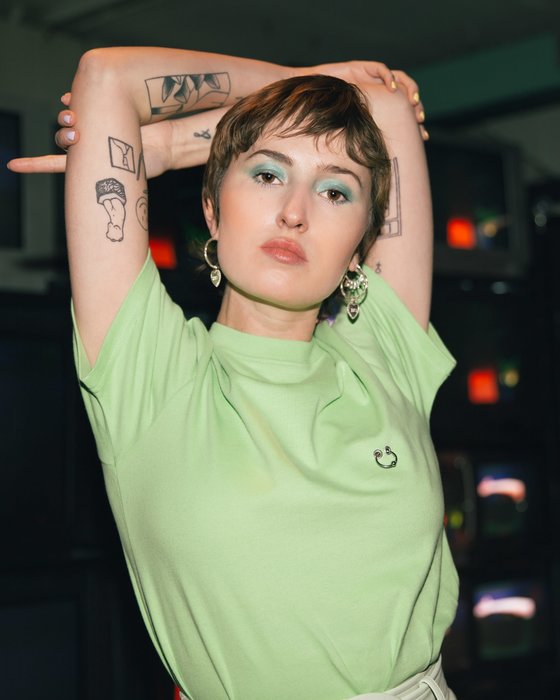 Representatie, een wereld die meer open is en feminisme. Dit zijn de onderwerpen waar het werk van ThisIsGary vooral over gaat. Samen met TITS Store Amsterdam hebben wij zes vrxuwen geïnterviewd in het Instagram museum,

YOUSEUM

. Deze vrouwen inspireerden ons in 2019 en dat zullen ze blijven doen. Fotograaf Sascha Luna heeft deze inspirators vastgelegd voor de nieuwe campagne van TITS. In het tweede interview illustrator en feminist Gerdien van Halteren. Waar haalt ze haar inspiratie vandaan?
Zwangere mannen, femme figuren die een vuilniszak knuffelen en een feminien lichaam met een grote Crocs-schoen op het hoofd. Gerdien van Halteren (ThisIsGary) is een kunstenaar die deze statements allemaal laat zien in haar illustraties. Waar haalt zij haar inspiratie vandaan? En waarom beeld ze juist dit soort onderwerpen af in haar werk?
We zien op jouw Instagram veel visuele statements voorbij komen. Zo zijn een paar van onze favorieten: de zwangere man en de fluide figuur inclusief penis en een grote croc schoen op diens hoofd. Waar komt die inspiratie vandaan?
Ik haal mijn inspiratie uit verschillende dingen, regelmatig uit bijvoorbeeld de queer community. De meeste ideeën zijn heel erg persoonlijk. Ze komen vaak voort uit dromen of hoe ik de wereld graag zou willen zien. Dat is vaak wat meer 'open' – en 'queer minded'. Verder vind ik mensen met een ander lichaam dan de maatschappelijke norm ook een grote inspiratie. Die probeer ik ook een podium te geven.
En hoe worden die dromen dan uiteindelijk omgezet tot de illustraties zelf?
Meestal heb ik al een beeld in mijn hoofd na een droom. Andere dagen begin ik gewoon ergens met tekenen. Als ik geïnspireerd ben, maak ik een snelle schets. De inspiratie kan op ieder moment van de dag komen. Later ga ik kijken naar wat de compositie wordt en hoe ik het silhouet ga vormen. Dan kijk ik hoe ik het onderwerp het beste naar voren kan laten komen. Als ik op geforceerd op zoek ga naar inspiratie, vind ik het meestal niet. Ik krijg meestal inspiratie als ik een museum heb bezocht of als ik veel in aanraking kom met andere kunst. Soms zit ik juist in een goede flow als ik thuis ben, omdat ik dan even de tijd heb om na te denken over het leven.
Je zei al dat je met jouw illustraties mensen een podium wilt geven. Op welke manier doe je dat?
Ik denk dat representatie in de kunst heel belangrijk is. Ik heb bijvoorbeeld een illustratie gemaakt waarop je een zwangere man ziet. Dat idee kwam uit een droom waarin ik een man had bezwangerd! Een andere reden waarom ik dit kunstwerk wilde maken is omdat er ook transmannen zijn die zwanger kunnen raken. Dit zijn wel dingen die minder vaak voorkomen, maar er is totaal geen representatie, waardoor het heel moeilijk is om je gezien te voelen. Mede hierom teken ik veel queer lichamen en lichamen die afwijken van de norm.
Je kunst kan je vrij feministisch noemen, noem jij jezelf ook een feministisch kunstenaar?
Ik ben gestopt met mezelf feministisch kunstenaar noemen, omdat ik niet mee wil doen met een 'hype'. Voor sommige mensen is feministische kunst namelijk een trend, maar voor mij is het gewoon. Het is belachelijk dat we ons nog steeds feministen moeten noemen, dat we nog steeds streven naar gelijkheid en er nog ver van zijn. Ik maak wat mij inspireert en feminisme is daar altijd een onderdeel van. Het vieren van gelijkheid zal altijd een onderwerp in mijn kunst blijven, maar ik hoop dat het in de toekomst normaal wordt.
Op dit moment sta ik als kunstenaar op een kruispunt waar ik bepaal welke kant ik op wil. Ik ben een andere weg aan het inslaan waarin ik het queer zijn meer wil vieren dan het vrouw zijn. Het is een grote zoektocht, maar het feminiene lichaam blijft altijd een grote inspiratiebron!
TITS X The TittyMag
Photography: Sascha Luna
MUA: Vivi Christin
Model: Gary
Location: YOUSEUM