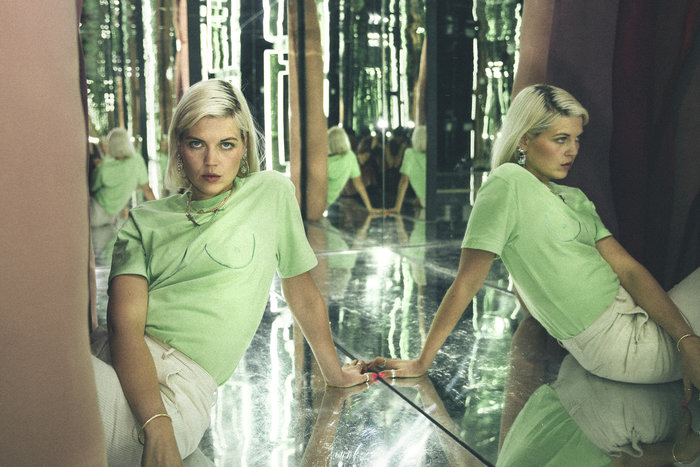 If feminism and fashion had to define their relationship status, they'd undoubtedly say: "It's complicated." In a time where female politicians are judged for their outfits rather than their political agendas and where our own fashion choices are deployed by others to trivialise or objectify us; our perception of femininity remains dictated by a male gaze. Under which feminine fashion is often dismissed as frivolous or superficial. 

As feminists, we (amongst other things) challenge the view of femininity as frivolous or inferior to masculinity. Aside from fashion's reputation as shallow, parts of the industry are no innocent in reinforcing traditional gender norms. Designs, editorials and advertising all assist in upholding the codes of how femininity is supposed to look, but many still originate from that above-mentioned male gaze. So it's understandable that many people see feminine fashion as mutually exclusive to feminism, but it's also untrue. 
"I think it depends on which brands you look at," says feminist writer, founder of The TittyMag, and art historian Cathelijne Blok. "I'm hoping we'll go even more towards an industry that doesn't think in restrictions, but in opportunities and creates a dialogue through fashion." Indeed, the fashion industry is becoming increasingly critical of the gender norms it used to encourage; now welcoming a new generation of designers, photographers, writers and other creatives who use feminine fashion as a means of challenging these norms, rather than reinforcing them. 
Fashion is a means of self-expression. So it's mainly up to the wearers of flirtatious open-backed tops and silky skirts to identify their appearance as feminist or not. "I dress feminine to use my femininity in a powerful way; exactly because a lot of people think it isn't powerful," Cathelijne explains. As a matter of fact; sartorial femininity has been used as a feminist tool since the movement's early days. In the 1900s; the suffragettes strategically picked white, fashionable, victorian dresses as their uniform during marches. Thereby appropriating the norms of feminine fashion to serve their cause. As today's feminism is becoming more intersectional; fashion isn't only used by women to reclaim their femininity as powerful in a movement often perceived as butch, but also by non-binary people and men to embrace femininity for themselves. Because femininity and feminine fashion aren't exclusive to cis women. Cathelijne elaborates on fashion's strength: "You can create a statement through fashion; by wearing something you can show your roots, what you're proud of, or endorse a designer… It's creating space by dressing yourself in a certain way. You can use the way you dress like a protest sign." 
But, now these sartorial protest signs are popping up all over the high street in the form of "the future is female" slogan tees; illustrating that feminism has become a full-blown fashion trend. This might leave you to wonder if it's really feminist to buy into that trend. "Considering that it's made in factories that are good for women; I'm quite happy if someone buys a shirt or cup with the word feminist on it. Because someone already feels interested in the word. Some people read books, others go to Zoom meetings on feminism; everyone starts at a different level" says Cathelijne. We should stay critical of brands capitalising on feminism whilst underpaying their garment workers, many of whom are women. But, if it's fairly produced, a trendy T-shirt can offer an accessible, easy way into the movement. Some might argue that this 'easy way in' is due to fashion simply being trivial and superficial. But this reputation can be traced back to fashion's association with femininity. Whereas crafts linked to masculinity; such as music, film, or advertising, have the reputation of being serious, valuable and well-respected. 
Feminine fashion is many things; a necessity, an industry, creativity, a means of self-expression… The list goes on. But it's not inherently unfeminist, nor feminist. There are countless examples of fashion being used as a feminist tool: From designs that challenge gender norms, to female garment workers demanding fair pay and magazines championing gender fluidity. But in the end, it's up to you; as a now well-informed wearer, to claim your love for feminine fashion as unfeminist, feminist or somewhere in-between. 
Image: Cathelijne Blok for TITS X The TittyMag, by Sascha Luna