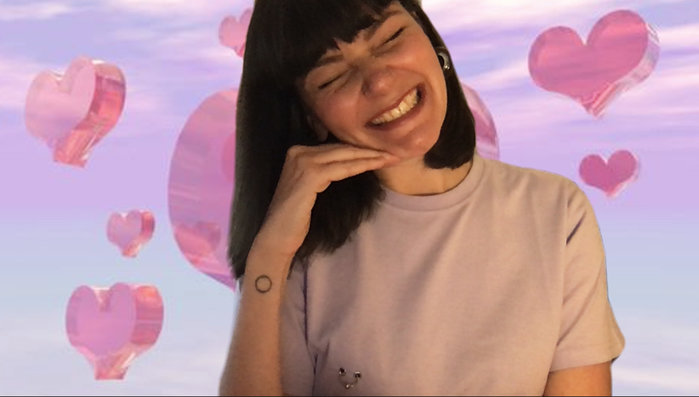 Illustrator Fien noted that 'kut' (Dutch for cunt) is often carelessly dropped as a swearword, whilst cunts - in their literal meaning - remain taboo. Challenging both the taboo and negative use of the word, she created a series of hilariously punny illustrations. Her cunts can now be found on cards, posters and soon on our Foefsafari shirt in collaboration with Merol. Admitting that she often swears with cunt herself, Fien is as hilarious as she is honest. A combination resulting in a healthy dose of self-mock that trickles through her work. This week, we asked Fien on a, somewhat belated, Valentine's date; where she divulged the names of her plants, the empowering women she met on her travels and how she stays positive in times of kut Corona. 
If you were your own lover, what pet name would you give yourself? 
Oh, that's a tough one; I'm not sure if I'd give myself a pet name at all. I'd probably just call myself Fien - which is strange because I name almost everything; all my plants are named either Henk, Gerrit or Kees. 
What do you love most about yourself?
That I'm spontaneous, enthusiastic and venturous. 
And how do you express love for yourself?
By taking good care of myself, going to bed on time… at least, TRY to go to bed on time… and have a Fien-spa day, that's important too. 
What does such a spa day look like, for you?
I absolutely love a foot soak and face mask, together with a big cup of tea and a Harry Potter book. 
That sounds lovely! So, with your illustrations, you address the normalised use of the word 'kut' (cunt) as a swearword. When is the last time you swore with 'kut'? 
Probably today, I really do swear with 'kut' a lot whenever I forget something or when I'm like "oh, kut, I'm running late." The latter was probably most recent, as I was a bit slow today. 
Your illustrations also manage to turn a serious and negative situation (objectification and simultaneous taboo around women's genitals) into a hilarious and positive one. When did you last turn a shitty situation into a fun one? 
During the start of Corona I was living alone, in my own apartment and that got pretty lonely. So, I moved to my boyfriend who lives in a student house so now I have 20 roommates, which makes Corona feel a lot less lonely. Together it's more fun than alone. 
You're the illustrator behind our Foefsari t-shirt in collaboration with Merol, which will be released in the first week of March. As your illustrations often challenge the negative use of the word 'kut', what did you think of the song and theme?
Amazing! It addresses the orgasm gap and re-embracing your cunt, which totally relates to me. And, of course, the wordplay of Foefsafari makes me very happy. So yeah, I thought it was a very fun collaboration. 
On your website bio you mentioned travelling alone for two years, can you tell me more about that? 
When I finished my art university, I was supposed to be an art teacher but I wasn't sure about that, or anything else I wanted to do from there. So, I set out to travel, originally to New Zealand but I never made it there. I found a job in Australia and met a lot of great people there; mainly women who were very entrepreneurial and daring, with an incredibly positive outlook on life. From Australia, I travelled to Asia with another girl and that was amazing; we did volunteer work, worked on farms, couch surfed… things I'd normally never do, which made me a lot more confident. 

Which brings me to my next question: When travelling, you learn a lot about the world (obviously). But, I find you also learn a lot about yourself. What is the biggest thing you learned about yourself on your travels?
To be less insecure and less focussed on what other people think of me - because, who cares? You have to make life fun for yourself, nobody else will. 
You already spoke about the lockdown, amplified by your illustrations like Kut Corona and Wat een kutjaar, it has been (and still is) a cunty year. How are you getting through all of it?
Moving to the student flat brought me a lot of fun, but the real motivation is Kut. Through my illustrations, I also got in touch with Steen Papier Schaar, a studio and store in Delft run by three women. I started by helping out in the store after one of the women went on maternity leave, after which I stuck around. I'm learning a lot here, can challenge myself and stay creative - which is very positive during this time. 
Finally, If you could spend a, somewhat belated, V-day by only doing things for yourself. What would your day look like? 
I'd stay in bed forever, drink a ton of coffee and eat a ton of breakfast. Then it'd be time for a Fien-spa day, nice foot soak, mask, Harry Potter, followed by a good hike outside. Because we spend way too much time inside now. 
Interview and photo: Fien ten Dam, from Kut illustraties
Stay tuned for the Foefsafari T-shirt, set to release in the first week of March!